General Information
Everything you need to know about J. Charles's policies and procedures can be found right here. As always, NO charges for: set-ups, personalization or copy changes on awards, rush orders, and so much more!
Artwork
Etching: To ensure the best possible etch for your products, all artwork should be black and white vector art. Ideal formats include .ai, .eps and .pdf created in Adobe Illustrator. Artwork that is placed or linked into these documents do not meet these requirements. Artwork should be created to hold a minimum of a 1 pt. line weight.
Printing: To ensure the best possible print for your products, all artwork should be CMYK and at least 150 dpi. 300 dpi is recommended. Artwork dimensions should be sized for the area where it will be printed. Scaling artwork is not recommended as it can introduce artifacts/pixelation thereby reducing the quality of the printed imagery.
Fonts: Simple, bold sans-serif fonts are recommended. Many serif and script fonts contain marks that will not etch properly. If copy is sent with artwork, remember to send it in outlines or accompanied by the font file. Small marks such as registration ®, copyright © and trademark ™ need to be enlarged, deleted or turned into a dot.
Artwork that does not meet these requirements, or needs modification to ensure a quality imprint, will have an art charge at a rate of $60 (C) per hour. If art charges will be incurred, customer service will notify you prior to set-up.
Emailing Art: Send to: art@jcharles.com – Please compress files prior to sending via email.
Brand Shapes (Laser Cutting)
Pricing is calculated by drawing a rectangular border around the artwork. The total area of the rectangle is used to determine the appropriate pricing tier. Orders with less than 10 pieces per design will incur a $20 (C) less than minimum charge per design.
Laser cutting acrylic can produce a slightly wavy edge due to heat generated by the laser. This is more visible on thicker pieces. Please note that this is inherent to the process and not considered a defect.
Cancellations
Cancellations must be submitted in writing via fax or email. No cancellations on items already produced. If an order is cancelled before any proof/artwork has been started, there will be no charge. A charge of $40.00 (C) will apply to any order that is cancelled after a proof has been prepared or if there is no response to a proof for over 90 days.
Color-Fill
Color-fill is available on most items in our catalog for $8.00 (C), per color, per item, per location. Choose from the color palette shown below. All marble and granite items include color-fill as shown at no extra charge. Complex designs are subject to an additional fee of $20 (C) per item. Determining whether a design is complex or not is at our discretion. Customers will be notified prior to production if a color-fill design is considered complex.
PMS colors can be "approximated" for $60 (C) per order, regardless of order size. Note that the $8.00 (C) per piece, per color, per location charges still apply. Please understand that an "exact" match is typically not possible, but we can usually achieve your color(s) within a couple of shades. The color matching fee is a one-time charge and will not occur on reorders.
Rush orders are not available when color matches are required. Please allow additional time for a proof and up to 10 business days for your actual order.
Please note, FDA regulations do not permit color-fill on items to be used for consuming food or drink. Color swatches are approximate, and may vary slightly from actual color-fill paint.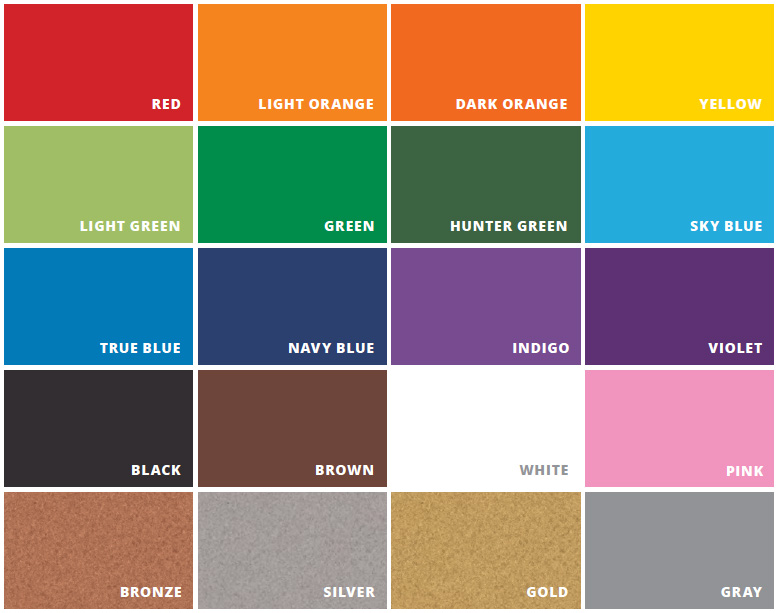 Confirmation
Orders are promptly acknowledged via email. Please review the acknowledgment carefully for any discrepancy. Our acknowledgment and/or your approval supersede all terms on the customer's PO unless contested prior to the production of your order.
Consumer Products Safety Information Act
The Consumer Products Safety Information Act (CPSIA) sets rules and guidelines for all children's products. J.Charles sells no products intended for use by children and therefore is not subject to CPSIA regulations. For more information on CPSIA guidelines, go to: www.cpsc.gov.
Co-Op Programs
Use catalog end-quantity for pricing. Use catalog beginning quantity for less than minimum orders. Please mark all orders "Co-op" to assure proper billing. Send a copy of the brochure or link to the website in which the item(s) will appear.
Copy Changes
There is no additional charge for copy changes on award items. Page will indicate if copy changes are free. All other items are $7.50 (C).
Credit Terms
Strict 30 days net for qualified accounts only. Accounts consistently past due, or those not eligible for an open account, will be set-up as prepay customers. COD orders are not accepted. We accept VISA, Mastercard and American Express.
Drop/Split Shipments
There is a $10.00 (C) charge per destination after the first destination, plus actual shipping cost. Names and addresses must be provided in Excel per our specifications. Please contact customer service for the Excel template file or download it at: www.jcharles.com/downloads/drop-ship-template.xlsx.
Foreign Shipments
Customers must choose a carrier and provide an account number for billing. J.Charles is not responsible for researching and quoting shipping companies. There is a $25 (C) service charge per destination. The customer must establish declared value for the air bill. If value is not stated on the PO, we will use catalog pricing. Any duties, taxes, etc. charged back to us will be billed to the customer; these charges may be billed 90 days or more after shipment.
Freight Quotes
We will offer freight quotes, however we cannot be responsible for the accuracy of estimates, as carriers are rarely consistent from the estimates to the actual charges.
Holiday Production
For all orders with proof approval by December 1, we guarantee shipping (not delivery) by December 15. Please be aware that expedited freight charges may occur during the holiday season.
Insertions
Contact customer service.
Inventory
J.Charles makes every effort to maintain sufficient quantities to meet product demand; however, all orders are subject to product availability. Please check with customer service or use the inventory lookup tool on our website.
Mailers
Items can be packaged in shipper-safe mailers for an additional $8.00 (C) charge per mailer.
Minimums
There are no minimum quantities for any item. However, orders totaling less than $67 (C) excluding freight will incur a $20 (C) small order handling fee. Does not apply to co-op programs (see section titled "Co-Op Programs" for more information).
Monogramming
Monogramming is available for the majority of our items with no set-up charge. Include with your order the list of initials and style desired. Contact customer service for further information.
Office Hours
Our office hours are from 8:00 a.m. to 5:00 p.m. EST M-F.
Overruns & Underruns
We ship exact quantities.
Packaging
All items (except bulk items) are packed in attractive gift boxes suitable for giving. See page 238 for images and descriptions.
Personalizations
There is no additional charge for personalizations on award items. Page will indicate if personalization is free. All other items are $7.50 (C).
PMS Color Matching
We can attempt to match PMS colors when digitally printing or color-filling an item. The cost for a PMS mcolor match is $60 (C) per color, per order. Please note that any match is considered an approximation; exact matches cannot be guaranteed.
Plain Merchandise
For blank merchandise, contact customer service for pricing. There is a 15% restocking charge on all returned plain merchandise. Returns are not accepted without prior authorization.
Pricing
All prices listed in this catalog are effective through September 1, 2019.
Product Quality
Etched items are all hand-etched via sandblasting. Variations in texture may occur and are not considered defects. Due to the various processes of glass and crystal manufacturing, please be aware that bubbles, flow lines, chill marks and other variances are acceptable and not considered defects. For specific information on each item, please refer to the item, then refer to our Material Reference. **All dimensions shown are approximate and may vary slightly from piece to piece**
Production Time
Please allow approximately 5–9 business days after proof approval to produce a typical order. Unusually large or complex orders may require additional working time and will be estimated on an individual basis. Ship dates cannot be guaranteed for orders that are held up due to credit issues, lack of artwork, art approval, etc.
Proofs
No-charge digital proofs are provided for all orders, even exact repeat orders, unless otherwise requested, time permitting. Due to the unique production cycle of recognition products, and to allow us to produce rush orders, your proof will arrive approximately one business day after your order acknowledgment. Proofs must be approved as soon as possible to prevent any delays regarding ship date.
Production Proof: A production proof is an imprinted proof of an in-house order sent for approval prior to production. Production proof cost is determined by total quantity ordered. Please allow approximately 5–9 business days for production after approval.
Virtual Proof: See section titled Virtual Samples.
Proposition 65

Lead Crystal: Proposition 65 requires us to warn California residents that consuming food or beverages that have been kept or served in lead-crystal products, or handling products made of lead-crystal will expose you to lead or lead components, a chemical known to the State of California to cause cancer and birth defects or other reproductive harm. Items containing lead-crystal are labeled with the Prop 65 warning on the product page.
Random Samples
Use end-quantity (A) for pricing. Random samples must be ordered before 1:00p.m. (EST) to ship that day. Samples requested with specific logos are not considered random samples.
Random samples can be sent on a 30-day memo bill when individual samples (not the total order) net $25 or more. Memo bill items must be returned within 30 days in order to receive a credit on product (not freight). Memo billing does not apply to spec samples or production proofs.
Rebates & Sales Incentives
Any rebates or other incentives for customer sales performance are considered on a case-by-case basis. All rebate programs must be approved in advance and in writing by company stakeholders.
Rebates are only issued via credit memo. No exceptions.
All rebates expire within one year of the issuing date.
Returns, Replacements & Claims
No returns will be accepted without prior written approval. Inspect all contents of your shipment immediately. Requests for returns or replacements must be filed with J.Charles within 7 days.
All claims for breakage must be made by receiver with the freight carrier. Receiver must save outer carton(s) as well as inner contents and notify carrier immediately for prompt inspection. Title to goods passes to the purchaser at F.O.B. point and all recourse for damaged goods rests with the carrier and not J.Charles.
J.Charles can only guarantee safe delivery to the original shipping address. We are not liable for damage to any items that are reshipped by the recipient.
Rush Orders
Rush orders are accepted, when possible, based on production availability. There is no additional charge for rush orders. However, expedited shipping may be necessary. Contact customer service for available production time.
Set-Up Charges
There are no logo set-up charges as long as artwork is submitted per our guidelines (see section titled Artwork). If art is not provided to our specifications, an art charge of $60 (C) per hour will apply to "clean-up" the art. If art charges will be incurred, customer service will notify you prior to set-up. Note: Copy changes and personalizations are not considered set-up and charges still apply.
Shipping
All orders are F.O.B. Northern Kentucky. The default shipping method is UPS Ground prepaid with freight charges added to the invoice. A standard selection of expedited services are available upon request.
Orders can be shipped via FedEx if a FedEx account number is provided.
There is an $8.50 (C) charge for using a third party UPS or FedEx account for billing.
Secondary Locations
For a single imprint in a secondary location on a single item, the cost is $6.50 (C) per location, per unit.
Secondary Imprints
For more than one imprint method on a single item (e.g., both etching and printing), the cost is $9.50 (C) per method, per unit.
Spec Samples
Use end-quantity pricing for cost of item plus freight. Please allow 5–9 business days for production.
Trademarks
All liability for required trademarks on submitted art and copy rests solely with the customer and not with J.Charles. It is accepted by J.Charles as being in full compliance with all laws regarding copyright, patent, trademark or any similar protection. Pictured products, graphic designs and logos only represent our ability to duplicate art and to illustrate our imprinting techniques. These designs are not available for use or sale unless expressly authorized by their owners. No product endorsements should be inferred. For a complete, current list of restricted logos, visit: www.asicentral.com/unauthorized-logos
Virtual Samples
Virtual samples with up to two revisions are provided at no charge if proper artwork is provided (see section titled Artwork). Additional revisions may be subject to an art charge at a rate of $60 (C) per hour.